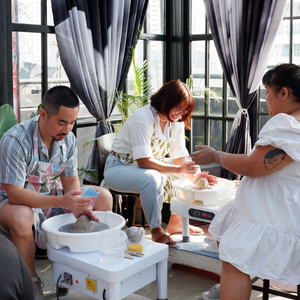 4 session Wheel Course
Over this 4-session beginner friendly workshop, we will walk you through a more extensive understanding and knowledge of wheel throwing. The class is more focused on helping you build in-depth techniques on the wheel from preparing your clay, mastering wedging, centering, pulling even walls, maximizing clay to make taller pieces, analyzing the cross section of your piece, rectifying mistakes on the wheel and trimming your pieces.
This class is taught only by our advanced potters Marita and Naina who has produced hundreds of ceramic monthly for restaurants and clients.
Marita founded Bumi & Ashe in 2021. She has dedicated thousand+ hours on her ceramic practice. She attended various short courses in Asia namely in Japan and UP Fine Arts. She focuses on wheel throwing and designing functional ceramics such as tableware and lamps.
Naina is proficient in wheel throwing and handbuilding, crafting hundreds of ceramics for restaurants and cafes like Toyo Eatery. Learning from teachers, including Ella Mendoza, her dedication to pottery shines through in functional works like lamps and dinnerware, collaborating with artists like Dex Fernandez.
4 sessions (3 hours each)
Note: This class is more focused on technique building rather than producing specific outputs. But at the end of the class, you are expected to make well produced cups, bowls and a vase.
Session 1: Clay preparation (wedging and centering)
Session 2: Practicing cylinders (cups and bowls)
Session 3: Practicing cylinders and trimming your pieces
Session 4: Vase making
Inclusions:
Use of potter's wheel
4kg of stoneware clay  -- Which will allow you to make around 4-6 pieces 

Pottery tools are available for use in studio 

Transparent Glaze -- we have other colored glazes priced in the studio if you'd like something more colorful 

Firing service of 4-6 pieces made during the class
If you have any questions, please don't hesitate to message us on Instagram and we will reply to you ASAP. 

*This is a public group class.
FAQ:
Who can join the class?
This class is for you if you are a beginner potter that would specifically like to pursue learning pottery on the wheel as well as for those who has had experience on the wheel, but has lacked information during their fundamentals class resulting in unsuccessful work.
Are we allowed to reschedule?
We only have fixed schedules for this workshop so rescheduling is not allowed.

Can we bring our final outcomes home? 
We will need to fire your pieces first before you are able to use them, the firing process will involve multiple stages like drying, and firing it twice which can take around 6-8 weeks. We will inform you when your works are ready for pick up.
Can I bring food or drinks? 
Yes you can bring food or drinks. You can even order from the dozens of restaurants around the Cubao Expo compound and it will be delivered to you during your pottery session. Please give us a heads up so the teacher is informed :)
Can I bring pets?
Yes of course. Our founder (Ashe) is actually a gray tabby cat. We love pets! Please bring your pets :) We also assume that you will be responsible for them and will not disrupt any other ongoing classes in the other class rooms. 
If we miss the class, can we refund? 
We do not do refunds. Please note that we are a small business and we have allotted time, space and an instructor for your company and convenience. But we know things can go wrong, especially during covid times. If you feel fuzzy, please help us out by letting us know in advance so that we can recalibrate. We will be happy to give you 1 reschedule. 
Can we give a downpayment to reserve?
We require full payment upon reservation as we need to say no to others who would like your slots. We accept BPI, BDO, Gcash. We hope you understand <3