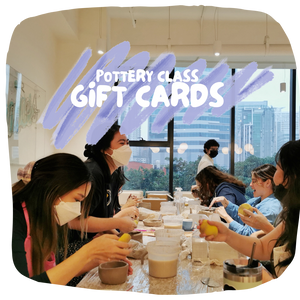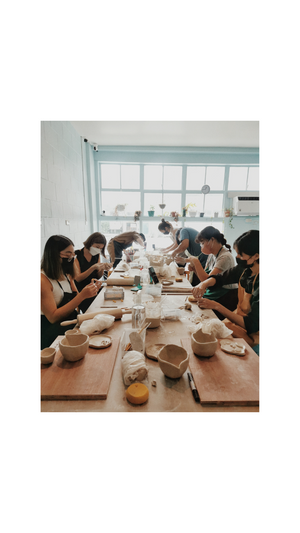 Pottery Workshop Gift Card
Gift Card for Pottery Class

Perfect gift for your friends and loved ones! Choose from our exciting workshops to start your journey into the world of clay.
Available for the following classes:
Hand Sculpting Class
Wheel Throwing 101
2-in-1 Private Pottery Class
Full Course Pottery Workshop
Upon confirmation of payment, you will receive a special code that will be used 
in 
checkout of the class of your choice.

This is not a physical product, you will receive the gift card via email.

Here are the details for the different options for workshops:

Hand Buidling / Hand Sculpting


Hand building or Hand Sculpting is a technique that allows you to create forms with clay and your hands, without using a wheel.
Think of it as sculpting. Using your hands and tools provided to make mugs, plates and such.
This is a great bonding activity for couples, friends and family vs. our wheel-throwing class because wheel is a bit more challenging and requires more focus. It's also great if you'd like to continue afterwards as it doesn't require buying expensive tools like a potter's wheel.

Wheel Throwing 101
Wheel throwing is a technique of shaping ceramics using a potter's wheel. 
At the end of this class you'll learn the basic fundamentals of wheel throwing: 
How to prepare your clay and your body position

How to center, open and pull a wall and make a vessel, these are the most important fundamentals of using a wheel  before you make other objects.
Using a wheel is challenging at first but it is also very fulfilling. That's why for this class, we focus on building your foundations before moving on to more complicated works. 
We recommend this class if: 
1. You're a beginner who may not have a prior experience with the potter's wheel before but want to try if this is something you'd like to pursue. 

2. Someone who may have had experience with the wheel  but have not been successful with the fundamentals which results in unsuccessful work. 




2in1 Private Pottery Date

This price is for 2 people.

Bring your special someone to the most unique and memorable date you'll ever experience. This 3 hour private workshop is intimate and is a great bonding time where you'll use the wheel, sculpt and paint your pieces. 

What you'll experience: 
Private class for two where you'll learn 2 classes in 1: Handbuilding (the use of the hand to sculpt) and Wheel Throwing (the use of the potter's wheel).

Full Course Pottery Workshop

4 sessions (3 hours each)

Over this 4-session workshop, we will walk you through every fundamental technique of wheel throwing, in-depth. From the position of your body, preparing your clay, trimming your piece, attaching handles, painting your works, sculpting to applying your glaze. We'll make sure you will understand what to do and why you're doing it.

After this workshop, you'll leave the class with a solid introduction to wheel throwing and handbuilding techniques.
Session 1: Handbuilding
Session 2: Wheel Throwing 101
Session 3: Trimming
Session 4: Glazing