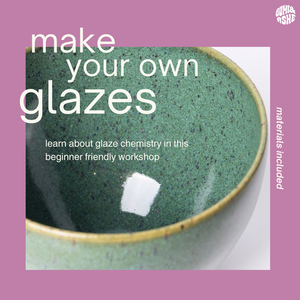 Glaze 101 (2 Sessions)
Over this 2-session beginner friendly class, we will teach you both the theory and application of glaze chemistry: how you can create, develop and alter to achieve different glaze types and finishes. how it reacts to different clay bodies and how it is influenced by the firing process.
At the end of this class, you will be equipped with the materials and knowledge to develop your own glaze recipes.
Session 1: Theory and Basics of Glazes
Raw materials and equipment needed 

Introduction to the glaze grid (e.g. matte, glossy, floating glazes)

Application techniques (brushing, dipping & spraying)

Firing and temperature

Creating your own glaze recipes
Session 2: Discussion of Results 

Analyzing the test tiles from the 1st session
Troubleshooting the recipe
Making a big batch of the successful glaze
Inclusions:
Pottery tools are available for use in studio 

Raw materials and colorants


Bisque and Glaze firing of your 2 pieces and test tiles with your glazes

Bucket of your successful test glaze which you can bring home on your 2nd session
Do we need to bring anything?
Your own N95 - N99 face mask since we will be using hazardous chemicals during the class
2 bone dry pieces which you need to bring on the 1st session for bisque firing:

Ideal and maximum dimensions of your pieces - 4 (W) x 4 (H) inches
Clay used must be the following clay bodies only (PBG, Yuki, Red Stone, Buff)

You can also purchase bisque pieces in the studio for P250 per piece.
FAQ:
Who can join the class?
This class is for practicing potters that would like to learn more about making your own glazes, especially if you have a certain glaze color or finish you would like to achieve for your own pieces.
Will there be more schedule options for this class?
If you are very interested to join the class but are not available during the schedule that was set please don't hesitate to message us on Instagram and we will check if we can open more timeslots.
Can we bring our final outcomes home? 
We will need to fire your pieces first before you are able to use them, the firing process will take 1-2 weeks. We will inform you when your works are ready for pick up.
Can I bring food or drinks? 
You can bring food and drinks to the studio but since the class involves hazardous chemicals you'll need to eat outside the classroom. You can even order from the dozens of restaurants around the Cubao Expo compound and this can be delivered to you after your pottery session. Please give us a heads up so the teacher is informed :)
Can I bring pets?
We love pets but the class involves hazardous chemicals which your pets can inhale and can be bad for their health. If necessary, you can bring your pets during your 2nd session but we also assume that you will be responsible for them and will not disrupt any other ongoing classes in the other classrooms.
Are we allowed to reschedule?
We only have fixed schedules for this workshop so rescheduling is not allowed.

If we miss the class, can we refund? 
We do not do refunds. Please note that we are a small business and we have allotted time, space and an instructor for your company and convenience. 
Can we give a downpayment to reserve?
We require full payment upon reservation as we need to say no to others who would like your slots. We accept BPI, BDO, Gcash. We hope you understand <3